CASE STUDY
FORCAS
A place where people can meet and connect
Please tell us a little bit about SaaSway Conference. What kind of event is it?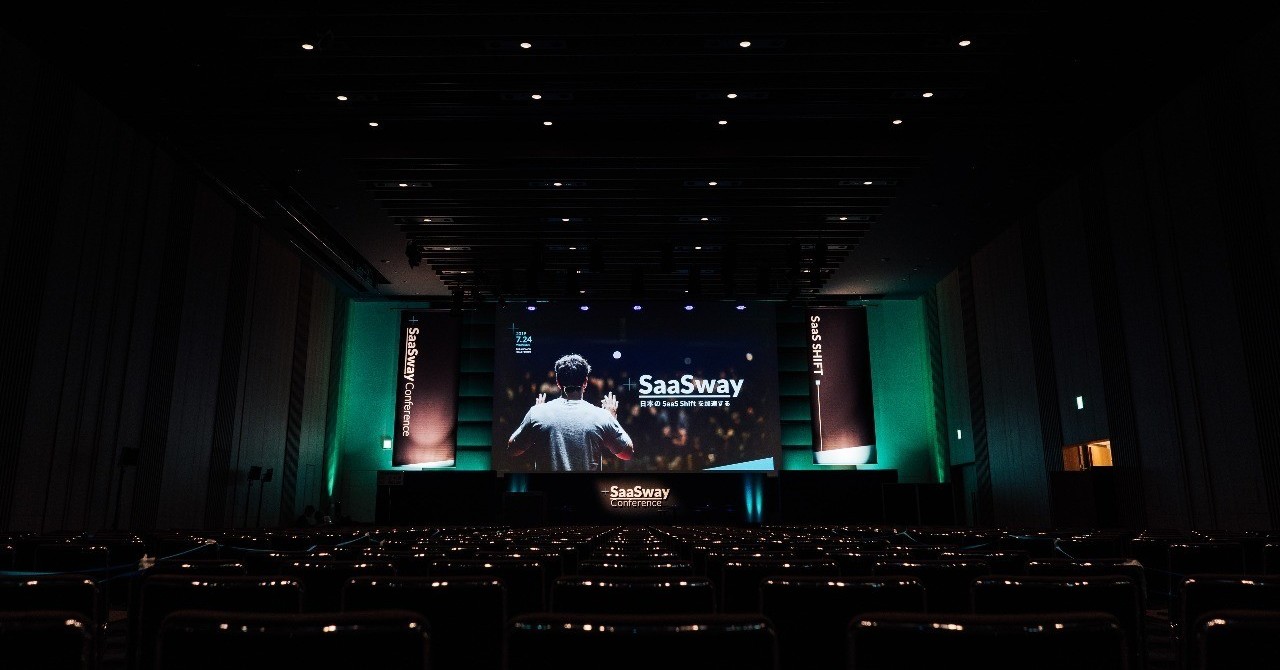 (Photo Credit: FORCAS)
SaaSway Conference is a conference that we held to bring SaaS companies and others that are moving towards the SaaS business model altogether for one day. A wide variety of people attended – from managers who want to start a SaaS business model, new business department managers from large corporations, to entrepreneurs who want to start a new SaaS business. 
We had 32 sponsors from Japan and abroad, and about 1300 attendees, which made this event the largest event in the SaaS Industry.
Representatives in the SaaS industry were asked to talk about the theme, "SaaS Shift." Various companies exchanged information and shared their opinions, which made it an interactive event.
This was the first time that you held this kind of event. Please tell us about what led to this event.
Sakai:

Last year, we planned and held many events throughout the year. Luckily, hundreds of people came to each of these events, and because of it, we believed in the potential of the SaaS industry. Our company, FORCAS, which is a part of UZABASE, is deeply connected with many domestic SaaS companies and startups.  
We believe that there is a huge potential for Japan's SaaS market. At the same time, it's still relatively low key here in Japan compared to the massive growth in SaaS seen in the United States and China.
According to the data released by the Ministry of Internal Affairs Communications in 2018, Japan is facing a rapid decline in its working-age population. One of the ways in which we can overcome the lack of labor force is by improving labor force productivity through SaaS cloud services.  We therefore believe that SaaS products are instrumental in pushing the Japanese community forward.
This time, we were able to cooperate with panelists and experts in the SaaS industry, including 
Aaron Levy,
the CEO of Box Inc., who thought likewise and agree to commit to the SaaS Shift.
Can you share what kind of events SaaSway had already planned and why you contacted EventHub in the first place?
Sakai:

The theme of SaaSway is "Accelerate SaaS Shift in Japan", and the core concept of how to do so was "to create a place where people meet and connect with each other" to make the SaaS community even stronger. This was inspired by an event that I attended in February earlier this year.
I was impressed by how the entire conference was organized to connect people together. They had also implemented a tool to make meeting appointments very easy. From attending this conference I was convinced that the future of SaaS accelerates vastly when people meet and make connections.

I was impressed by how the entire conference was organized to connect people together. They had also implemented a tool to make meeting appointments very easy. From attending this conference I was convinced that the future of SaaS accelerates vastly when people meet and make connections. 
The theme "Accelerate SaaS Shift in Japan" that we advocated is not something that can be done overnight. In order to make it long-lasting, we knew we had to expand on human connections. 
As we mentioned, we wanted to create a community that people can meet and connect. We strived to make the SaaSway Conference as a place to create new connections with all of the participants and collaborators. This is how we started planning events like this.
We were looking for a tool that allows us to achieve exactly this. I have seen similar tools be used in conferences abroad but not too often in Japan. I  remembered using EventHub at a difference conference I had participated in before and decided to make an inquiry.
As a participant, I did see that the concept "a place where people meet and connect" was a central element of the conference. Can you tell us how designed the space itself and how you used EventHub?
We established an area called Cloud Lounge at the center of the conference venue and allocated an area larger than the session venue.
Sponsor booths were set up around this Cloud Lounge. In the middle of the Lounge were sofas and tables for people to use for meetups set up on EventHub. With t
he help of designers and interior design companies, we created a beautifully designed cloud lounge for our guests to meet up with each other.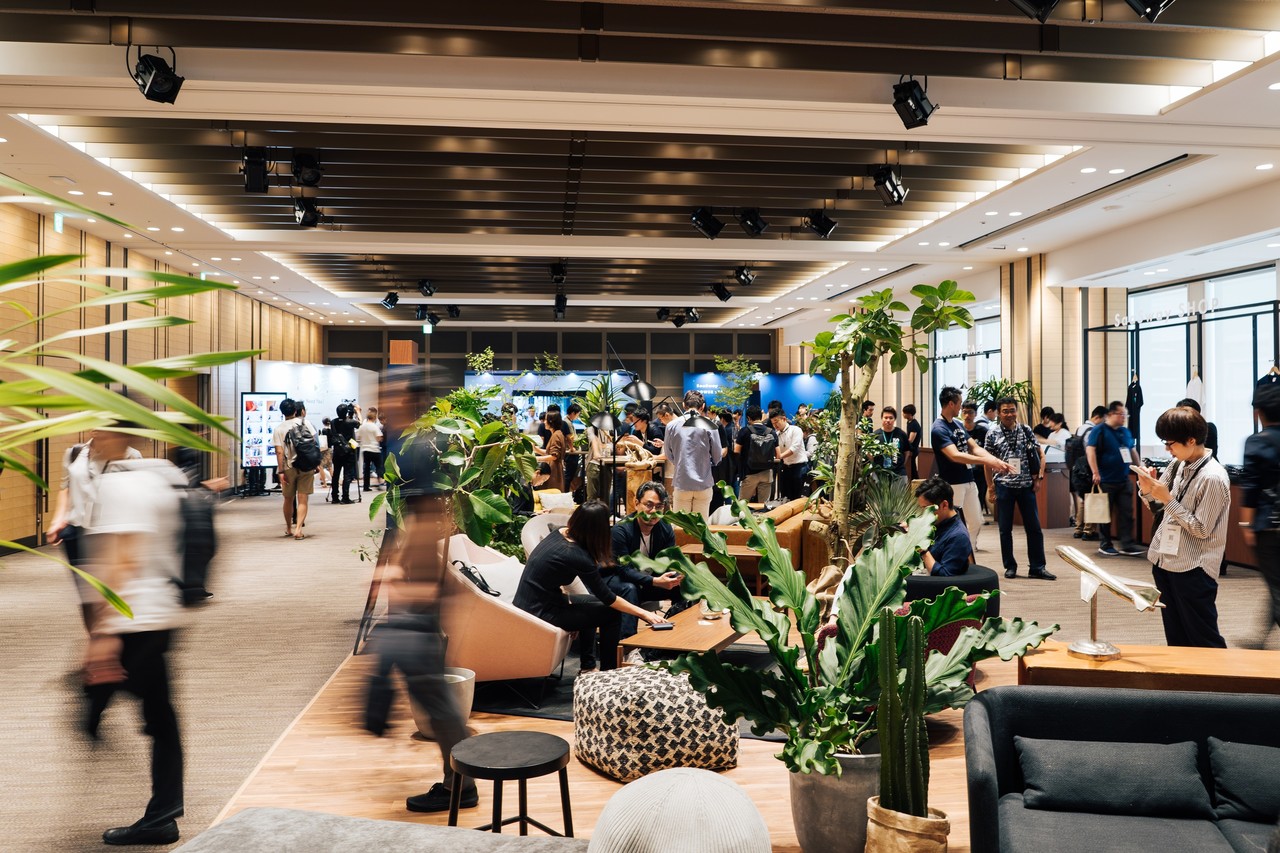 CLOUD LOUNGE was set up in the middle of the conference venue.
We opened the EventHub meetup site three weeks before the event so that people had ample time to find each other and set up meetings with each other before the event.  We sent announcements occasionally to let people know that this tool existed. We also set up meet up points across the Cloud Lounge so that the pair of attendees meeting up with each other do not get lost and can find each other with ease. After meeting, they were free to go anywhere in the Cloud Lounge and grab seats to conduct their meetings.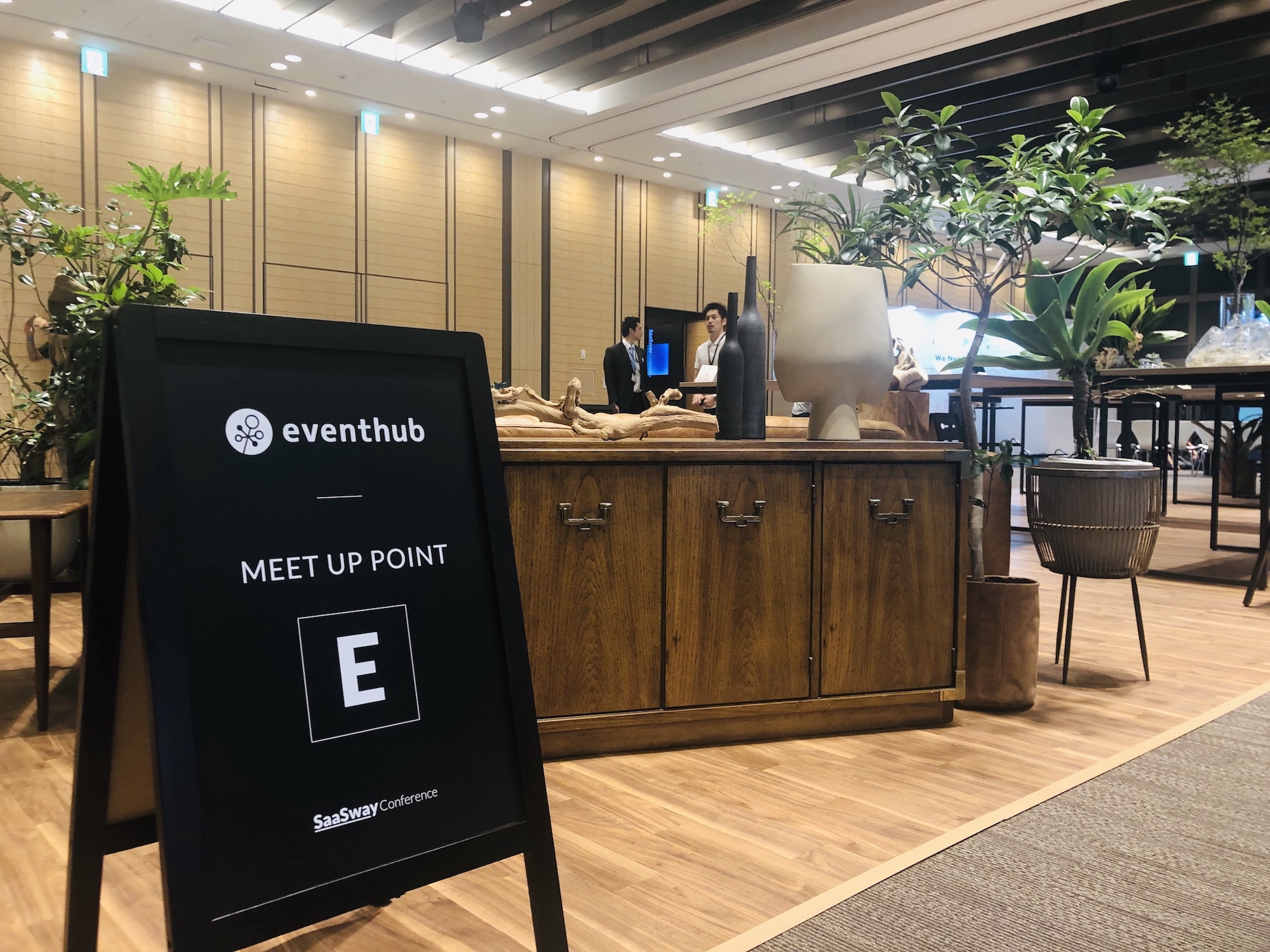 Meet-up points for EventHub scattered across the Cloud Lounge.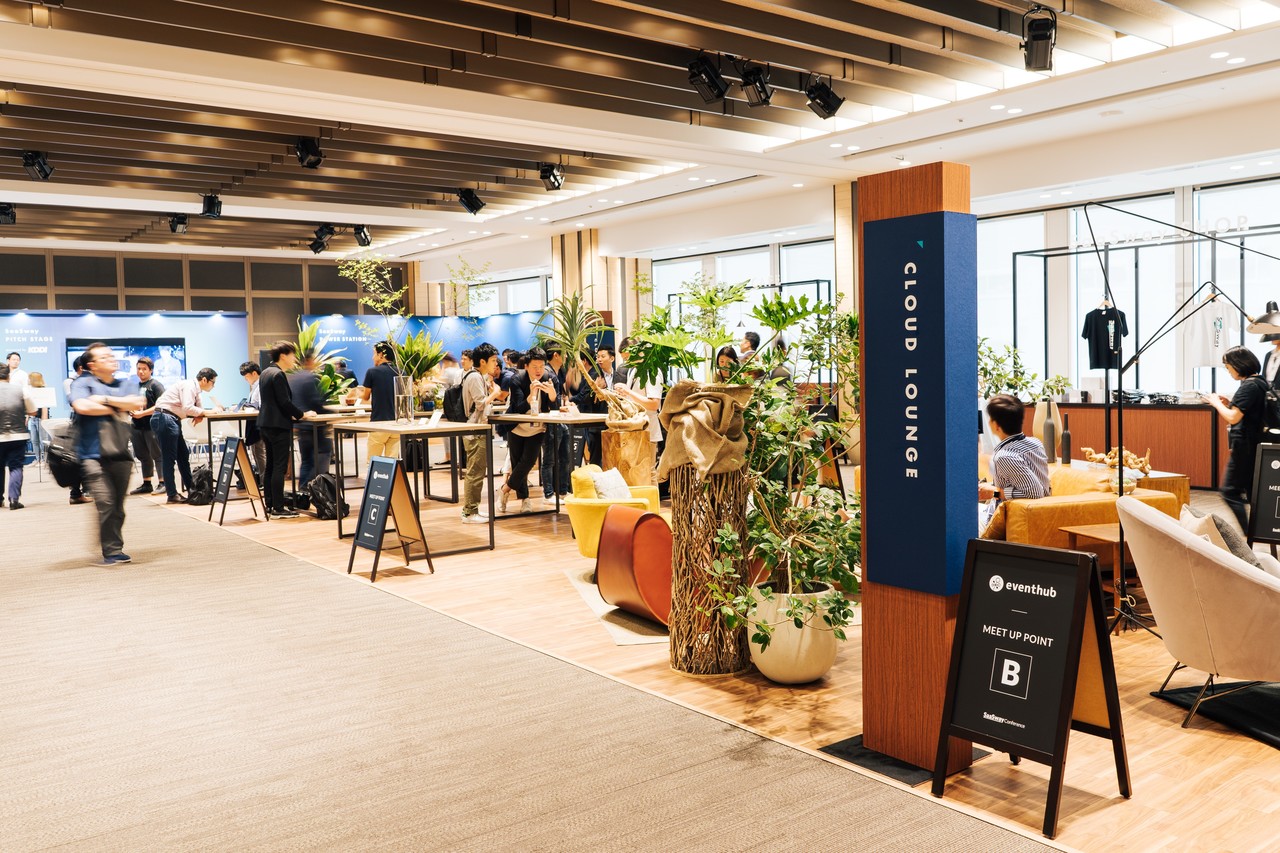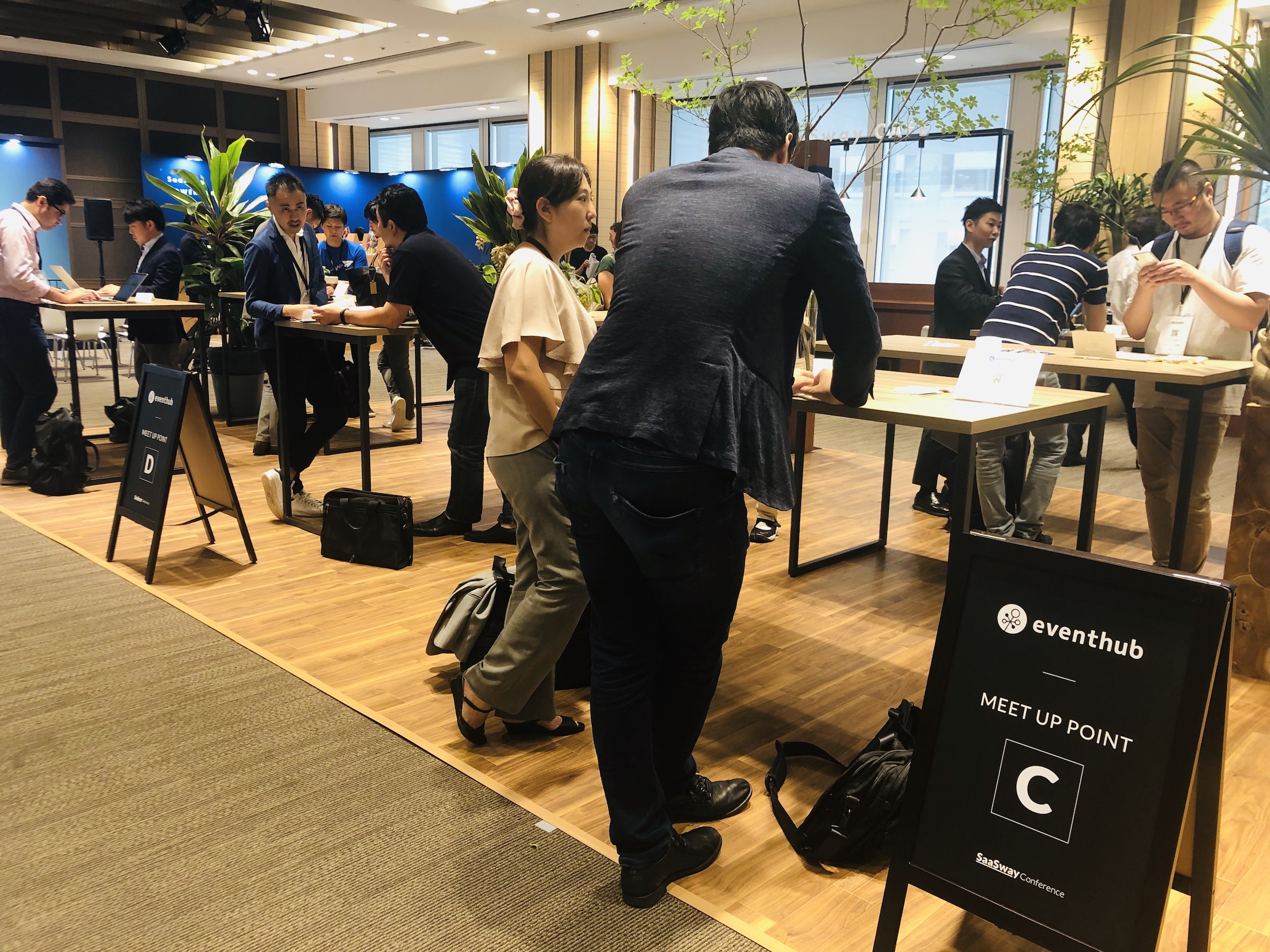 And how were the results? How did the day go and were you able to achieve your goals?
Thanks to EventHub, we had many meetups, and the lounge was so full that a total of more than 200 connections happened that day. In each hour, there were 30 meetups happening across the Cloud Lounge. I was thrilled that we were able to achieve our goal of throwing a successful event and providing our attendees with quality networking experience.
As much as I was inspired by the concept at the SaaS event in the states, I was slightly worried that Japanese participants might be too shy to meet up with each other during the event. I was proven wrong.  Many people filled up their profiles and actively used the service and set up meetings way in advance of the event. As the organizer, I was pleased to see so many meetups happen.
I received a lot of positive feedback from our participants.  From this experience I was convinced that with the right tools in place, Japanese conferences can get a lot more interactive and exciting.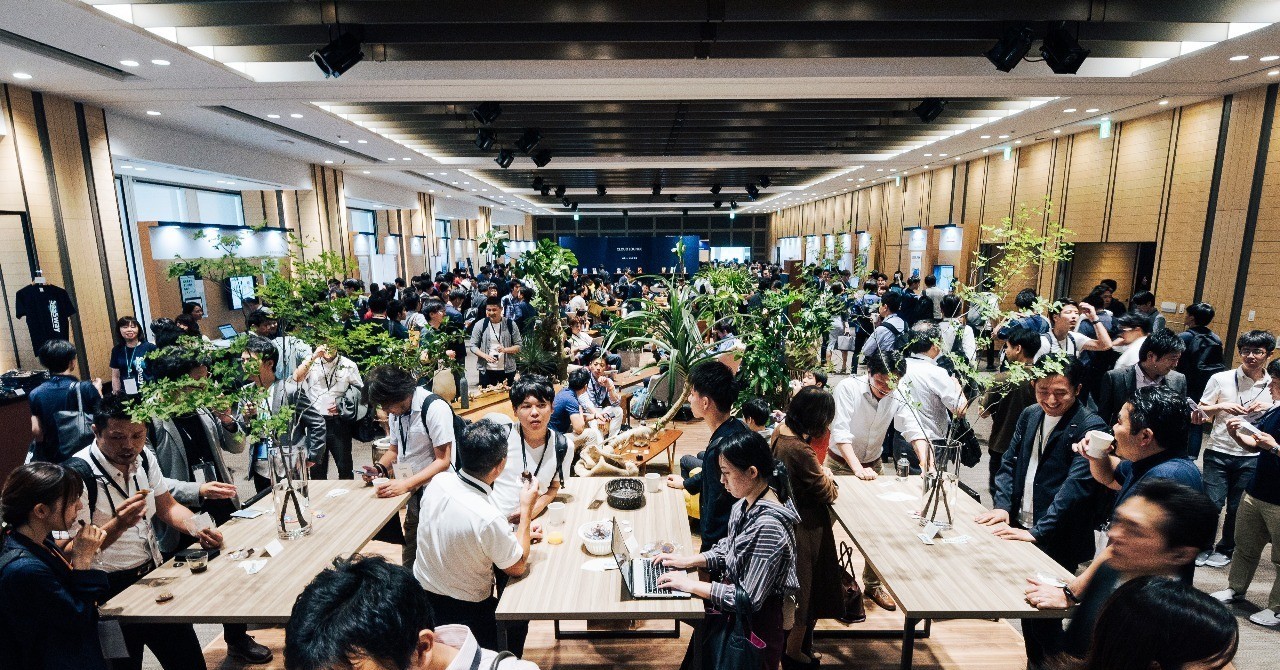 (PhotoCredit: FORCAS)
My goal was to create a place for people to meet and connect. In order for us to create a true SaaS shift, it's not enough to transmit ideas and knowledge. It's important for members of the community to meet with each other and to join forces to create something new. 
Creating a way for people to make connections was a vital portion of this event, and I am glad that we were able to provide that by providing our attendees access to EventHub.  I am hopeful that the connections made through Eventhub have created meaningful new relationships that will push Japan's SaaS industry even further.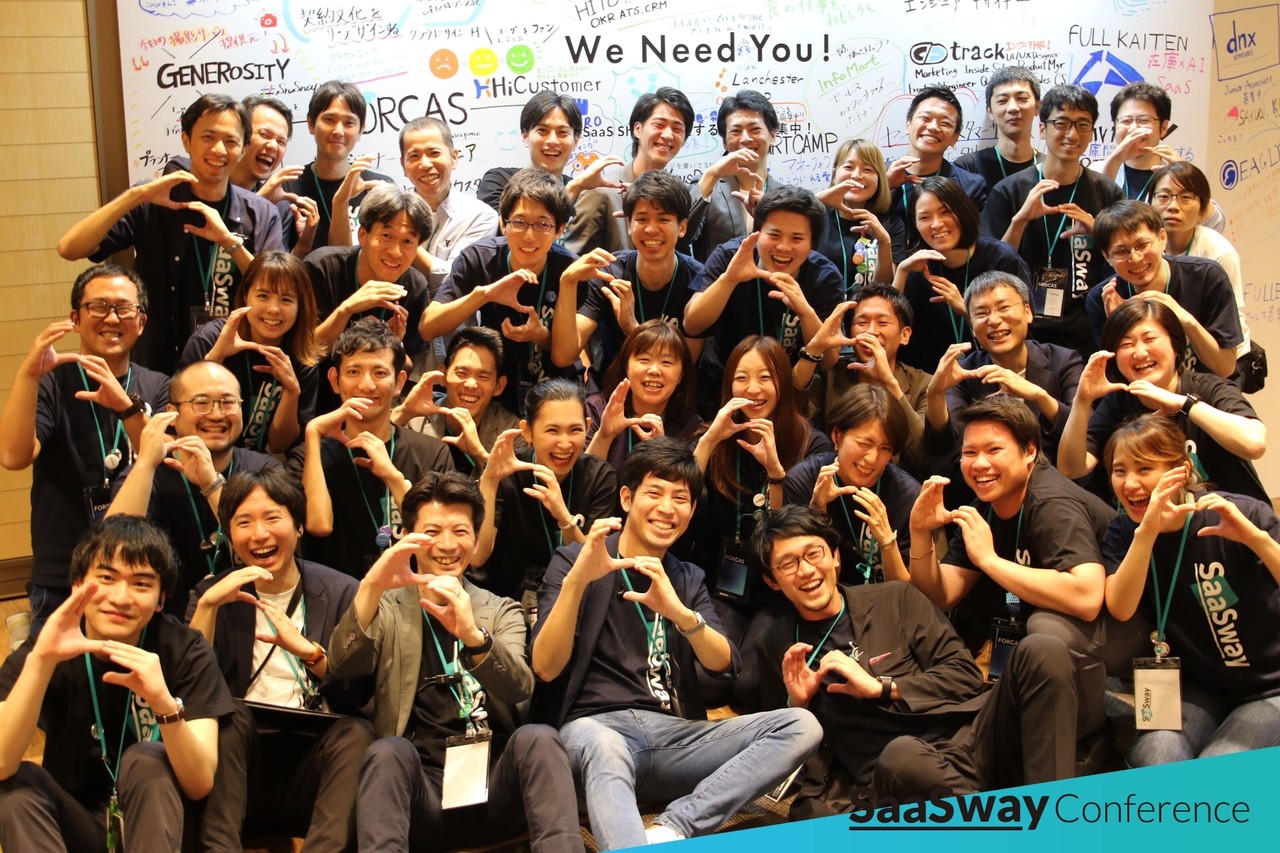 (PhotoCredit: FORCAS)
Jumpei Sakai
FORCAS
Marketing and Branding manager