CASE STUDY
Coral Capital Co. Ltd.
Boosting job fair productivity by facilitating casual meet-ups
EventHub was a key feature in matching companies and job seekers at the start-up recruitment fair "Coral Career Summer Fair 2019"
Coral Capital, a venture capital fund based in Tokyo, held a job fair and used EventHub to connect companies with job seekers. We interviewed Mr. Tsuda of Coral Capital, the organizer of the event, and Ms. Lee of justinCase, who used EventHub's service as one of the participating companies.


Please tell us about Coral Career Summer Fair 2019. What kind of event is it?
Mr. Tsuda (Coral Capital):

Coral Career Fair is one of the many recruitment fairs we hold for our investee startups and those looking for jobs at startups. We've held "500 Career Fair" and "Bilinguals and Gaijins in Startups" in the past, and this fair was one of the biggest events that we have done. 
At these events, we invite our investees to exhibit and get the opportunity to meet individuals interested in pursuing a career in startups. We believe that these events are excellent opportunities for both our investees and participants interested in launching their careers in this field.
What happens at these events, and how do you promote interaction among participating companies and participants?
Mr. Tsuda (Coral Capital):

We've tried a lot of things in the past to promote networking. We've provided casual networking parties with beer and light meals. We have also provided participating companies with profiles of attendees beforehand so that they can best prepare for the day.  All of these worked to some extent, but we thought that we could do better, which is why we started considering using EventHub.
Why did you decide to use EventHub, and how did you leverage the tool at your event?
Mr. Tsuda (Coral Capital):

I used EventHub simply because I wanted to provide a simple and better matching experience and an opportunity for participants to get to know the companies more in-depth. We wanted to use EventHub and allow companies and attendees to set up casual "meet-ups" through EventHub before the event. 
We set up the EventHub matching page for our event so that each meet-up is 10 to 15 minutes long, which we thought was the perfect length to make it casual but still informative. Each company was given six slots of these 10 – 15 minute meetings, and were free to reach out to attendees before the event to schedule these meetings.

We first invited the participating companies to register their information on EventHub before inviting the attendees. We designed their profiles so that each company was associated with keywords that attendees can use when navigating through the list of startups.
After all companies had registered their information, we sent out invites to the attendees. From there, we just waited and watched for companies and attendees to start talking to each other and set up meet-ups.
Soon, many companies and attendees were setting up meet-ups and filling their schedules. Many were conversing and exchanging information before the event.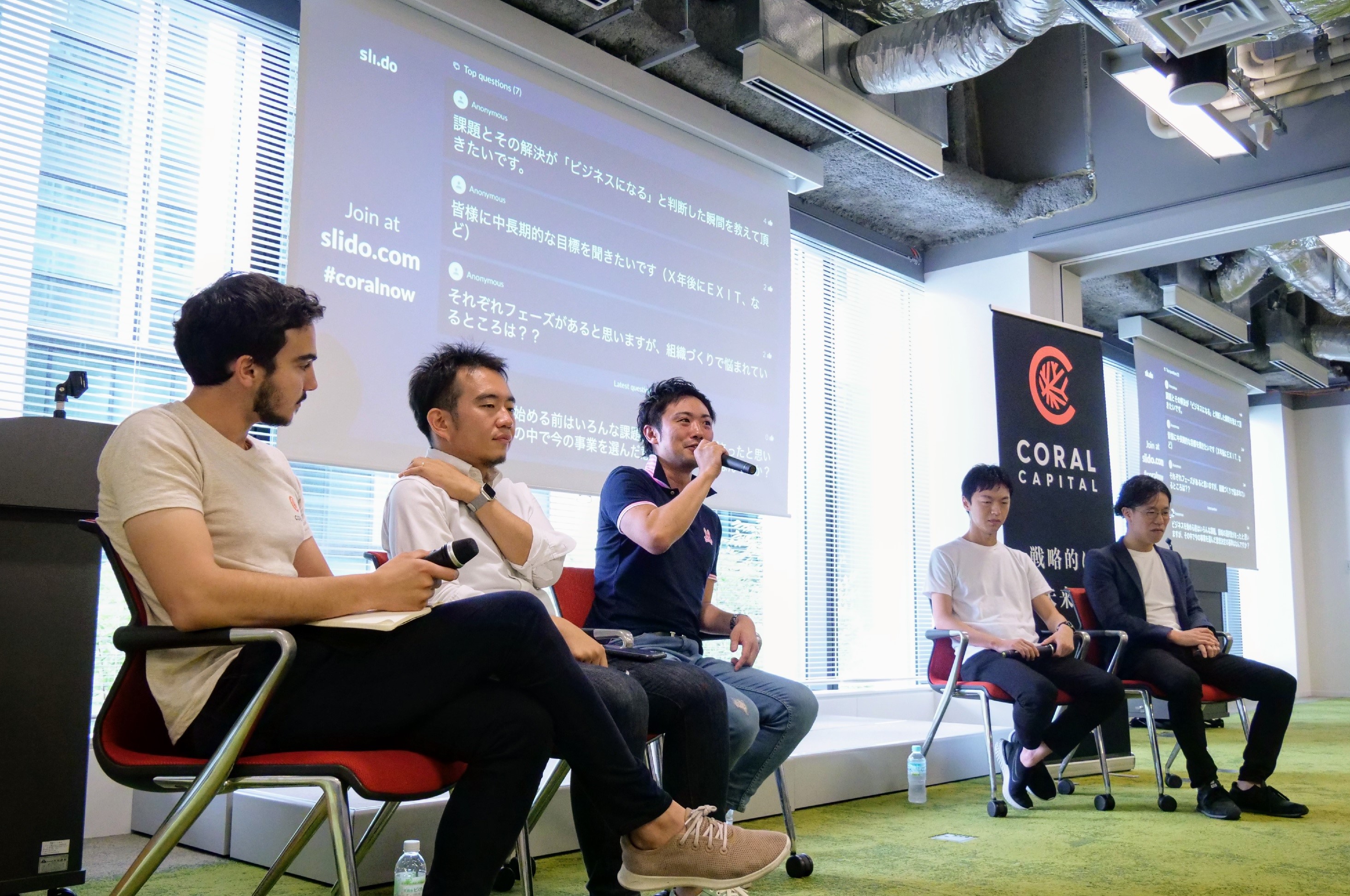 (Photo credit: Coral Capital)
Given that this was the first time you used an event tech like EventHub, what were your expectations and concerns?
Mr. Tsuda (Coral Capital):

I was not too worried, because I had a gut feeling that everyone would use it and appreciate being able to converse before the event. The only concern that I had was about the operation of the event itself, since this new addition required us to procure meet-up tables and navigate attendees to the right meeting tables at the right time. 
How was the result, and what did EventHub add to the event? 
Mr. Tsuda (Coral Capital):

The number of meet-ups set up totally exceeded my expectations! There were so many meet-ups taking place, and many companies ran out of meet-up slots well before the event started.
EventHub not only increased the amount of interaction among attendees and companies but also increased their satisfaction. I asked exhibiting companies if EventHub increased their exhibition ROI, and we got a 100% "yes" from everyone. They all said that we should definitely use the tool again next time. 
What was your experience using EventHub as an exhibitor? 
Lee (justInCase):

We thought that it was convenient that you can search through participants' profiles and identify whom you want to speak to in advance. EventHub allowed us to prepare ahead of time and have a fruitful conversation at the event, rather than engaging in conversations at the event venue without knowing anything about them in advance, which was the way it usually is at events. 
I also thought that EventHub solves one common problem we often face at recruiting events. When preparing for recruiting events, it's difficult to share candidate information and feedback on candidates among the recruiting team. Candidates end up interacting with many recruiters along the event process, and not every recruiter is informed of what other members spoke about along the process.  This is a problem since it means that recruiters may ask the candidates the same questions over and over again, leaving a bad impression on the candidate.
With EventHub, you can centrally manage candidates' profiles and conversation history. All members on the team can share the same information, which means that the interviewer at the event can take off from the last conversation that other members had with the candidate before the event. We were able to have very effective interviews even in a short time-span of 15 minutes.
EventHub was instrumental in having meaningful conversations at the event. We hope to see it in Coral Capital's future fairs.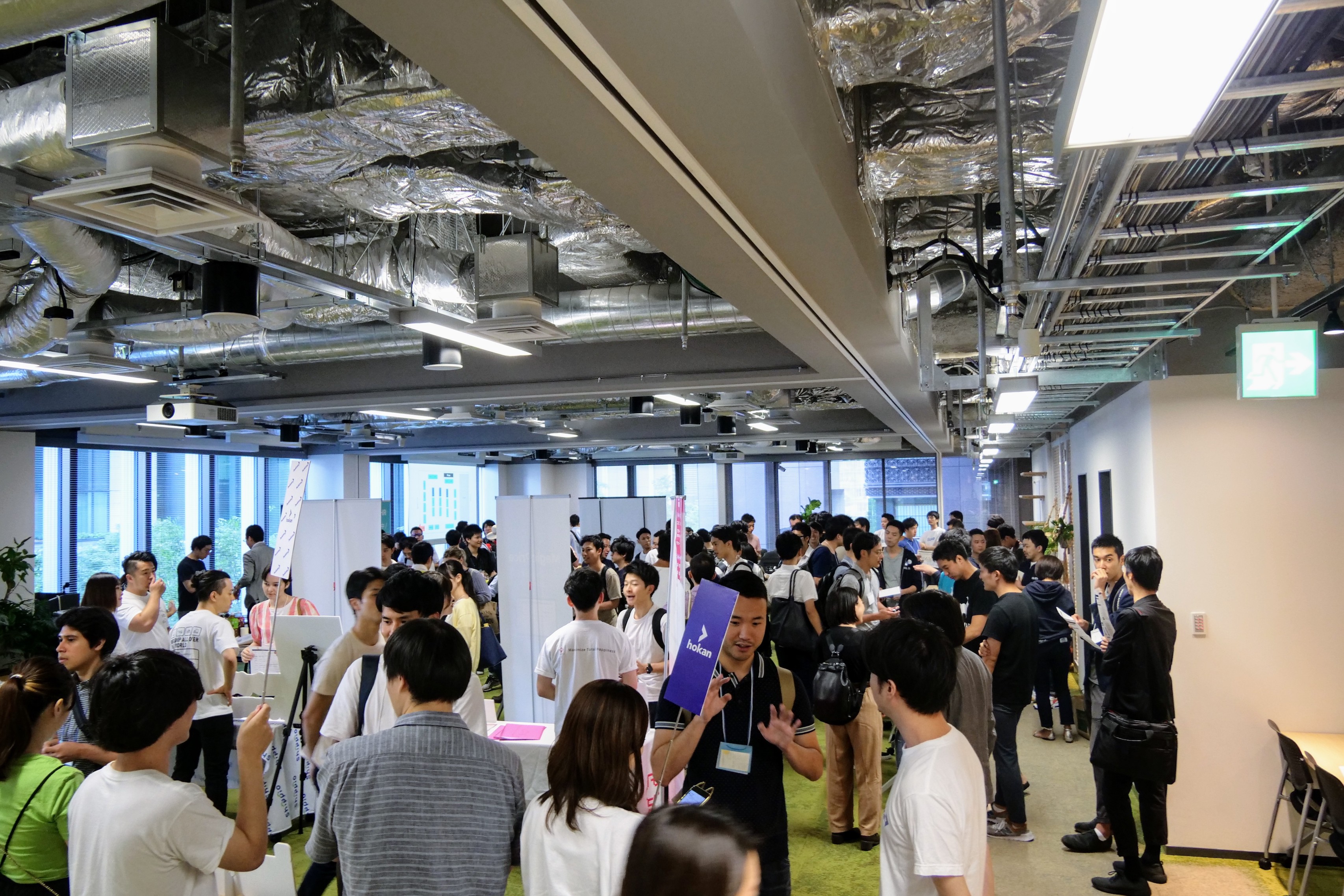 (Photo credit: Coral Capital)

Interviewees:
Ryo Tsuda
Coral Capital Co. Ltd.
Talent Manager

Nobuai Lee
justInCase Inc.
COO

Ryo Tsuda
Coral Capital Co. Ltd.
Talent Manager