Online event management tool
Leverage the Power

 
 of Connection
All-In-One event management tool for online events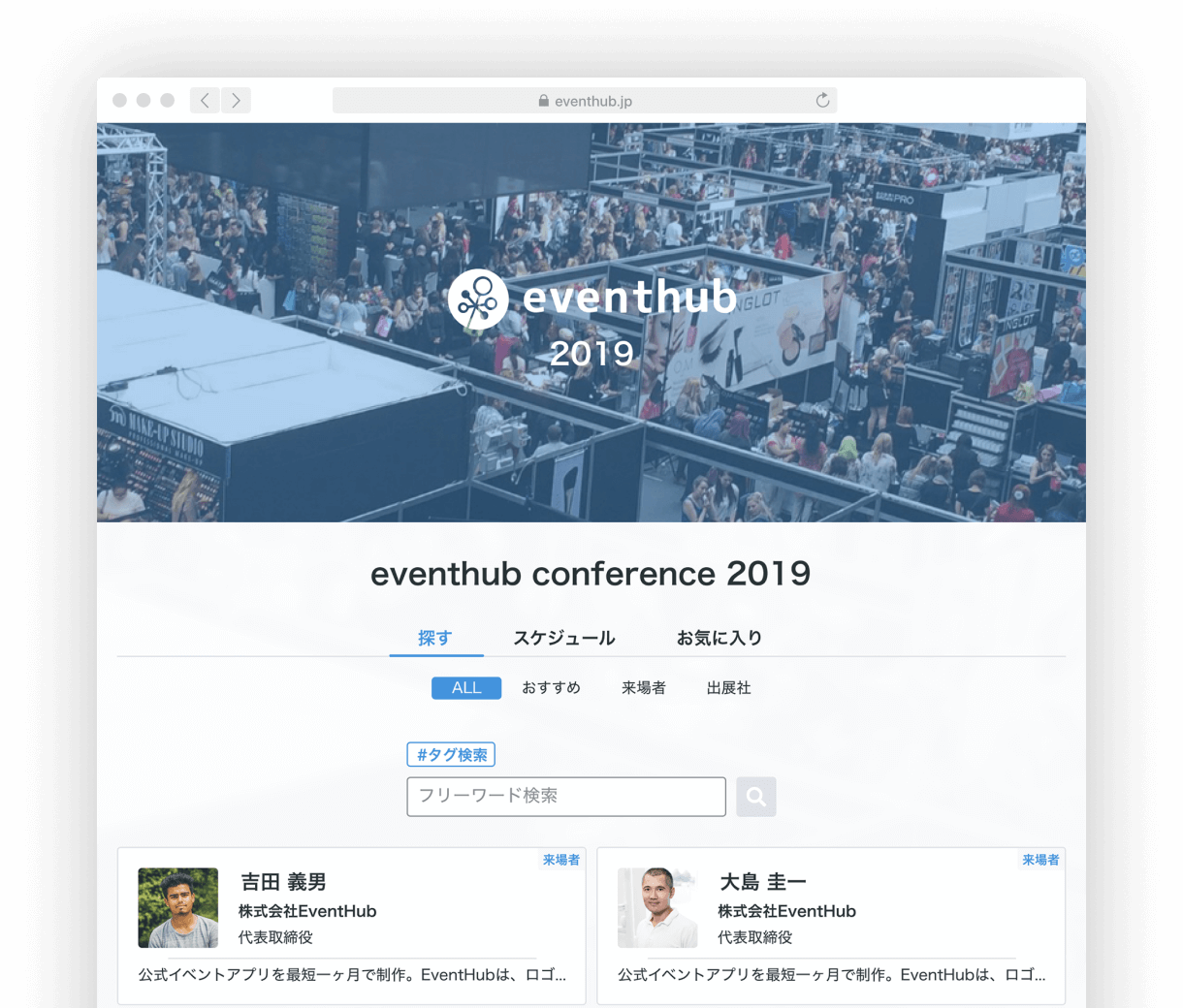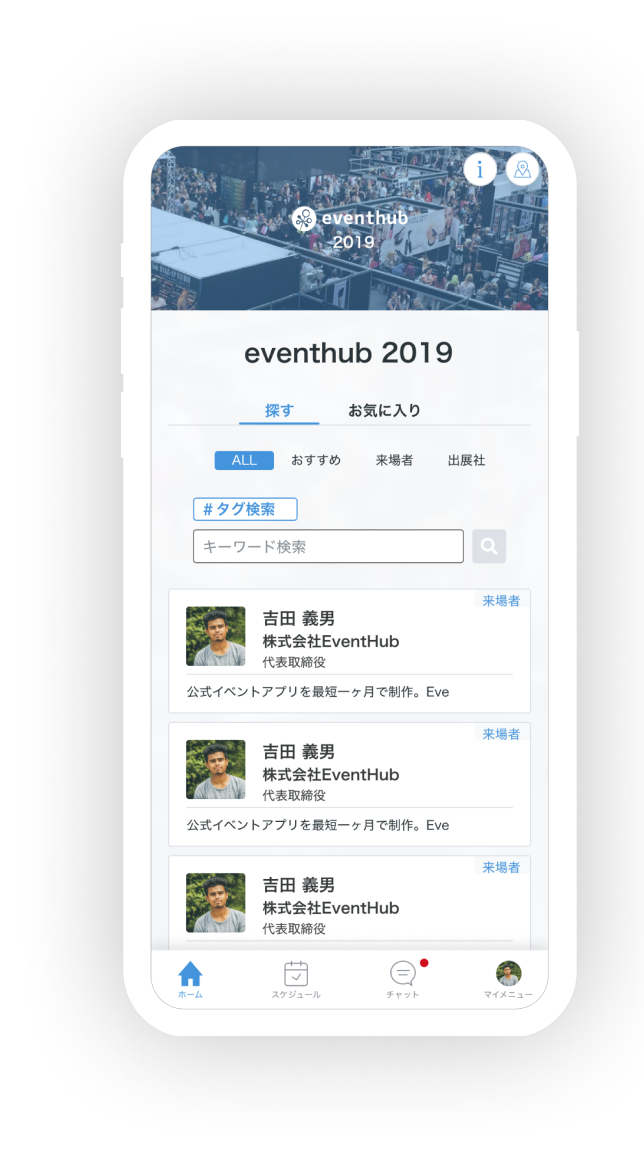 "Online event management tool share" research by Japan Marketing Institute
Conferences, Expos, seminars and more,
EventHub caters to
 a wide variety of events.
Get the most out of your events with EventHub
Before the Event
Easy event management - all features in one place 
Ticket sales, payments, session registration, survey distribution and more; all of the tools you need for a great event are at your disposal. An all-in-one tool to fully optimize your event management, from the first registration to the final follow-up.​ ​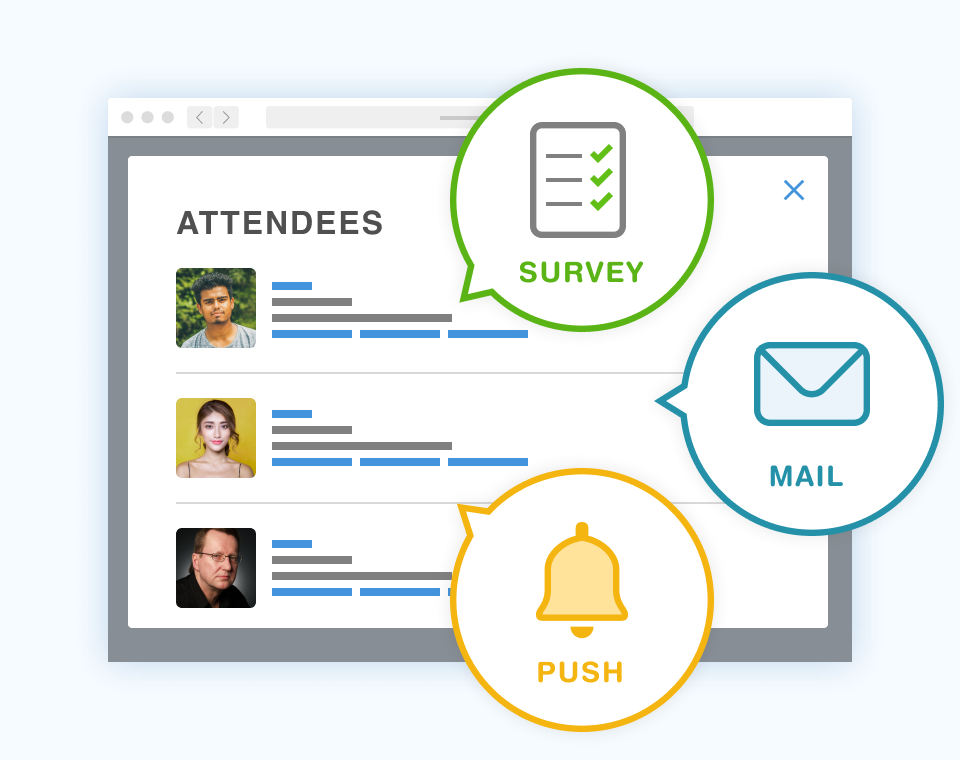 Before/During the Event
​
One-stop tool to manage all your client communication
Before, during, and after the event, manage all of your communications in one place. Event organizers can easily contact and send out information to attendees and exhibitors from their management page.
Before/During the Event
Facilitate smooth B2B networking and generate 
high quality leads
Our popular matching feature means exhibitors and attendees can network with whom they want to. From automated suggestions to recommendations, we provide the tools needed to increase engagement at your event. 
After the Event
Simple integration with third party tools
Automatically importing registration data and activity history into your MA/SFA systems allows for quick and effortless information sharing after the event has ended, making marketing and inside sales easier than ever.  
Why Choose EventHub
Host a data-driven event
 with attendee data and participant history
Make the most of how you utilize data. With detailed information on attendee and exhibitor behavior, you can continually improve your events by analyzing what kind of contents or sessions worked well.​ ​
With targeted networking,
you can drive client interest to generate more leads and increase sales
While also an effective way to showcase your exhibition and sponsors, our features are renowned by exhibitors who have been able to pinpoint and network with their target client base to create real business opportunities.​ ​
​
Significantly increase engagement
 by fostering communication and matching before the event.
Our experience shows that attendees who have had the chance to connect with other participants before the event are significantly more likely to actually attend on the day.​ ​
Create more opportunities for collaboration between attendees,
for a more impactful event.
Boost your ROI by increasing the opportunities for meaningful networking and business collaboration between attendees, exhibiting companies and sponsors.